Ritni/Frozen – Snow adventure in Sápmi – 4 Days
"The surroundings and experiences can be evocative of the Frozen movies, and this is hardly surprising considering the proximity to reindeer, snow and ice, lávvu tents and northern lights, etc." 
–  Nils Torbjörn Nutti, owner of Nutti Sámi Siida, 2020
Experience snow-covered Sápmi on your own and find yourself mesmerised by the lights, both night and day. Our small cabin accommodation at Reindeer Lodge is the base for your stay, nestled in the woods and with the reindeer as your nearest neighbour. Here you will find balance between activity and relaxation for you, your partner, family and friends.
Package Tour Ritni/Frozen
Day 1 – Arrival
Choose between renting your own car (book yourself) and being picked up by our transfer service (surcharge applies). 
Check-in into your private cabin located outside Jukkasjärvi village, in the middle of the forest at the shores of river Torne.
In the cabin there is a wood-burning stove and at the lodge there is access to skis, snowshoes and sleds for going on nature outings on your own.
Accommodation in private cabin. (B)
Day 2/3 – Day visit at Icehotel and Márkanbáiki
After breakfast you have the day off to make a day visit to the world-famous Icehotel and to the Sámi open-air museum Márkanbáiki in the village of Jukkasjärvi.
You go there e.g. by following the marked snowmobile trail on the frozen river Torne or a 5-minute car ride along the road.
Take the opportunity to look into Jukkasjärvi church to view the mighty altarpiece etc.
Accommodation in private cabin. (2xB)
Note: You are free to go for the day visits whichever day of the stay.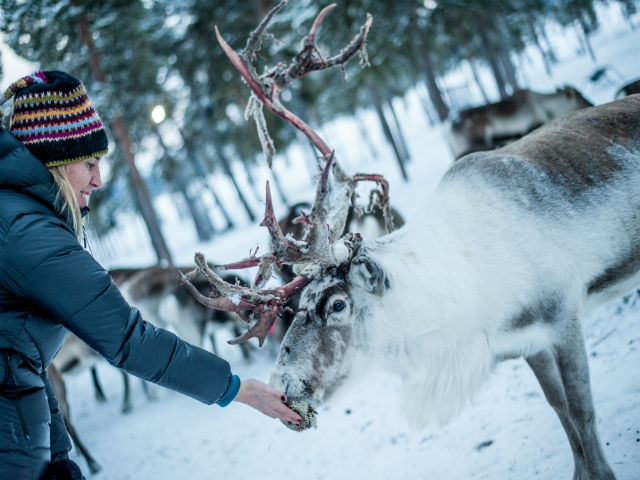 Day 4 – Departure
After breakfast, it's time to pack up and clean the cabin (departure cleaning at extra charge). Our transfer service takes you to Kiruna (surcharge applies). (B)
Tip: Combine the package with our reindeer sled tour Ráidu and/or Sámi storytelling evening Idjastállu one of the days to take part in our guided activities based on the reindeer and Sámi culture.
Price
TBC
Period
13 December 2021 – 13 April 2022.
Included
3 nights in private cabin at Reindeer Lodge included.

1x day visit at Icehotel and 1x day visit at Márkanbáiki on your own on whichever day of the stay.

Free access to snowshoes, cross-country skis and sleds.

Breakfast day 2, 3 and 4.

Bed linen and bathing towel. Firewood for cabin stove.
Package Tour Ritni/Frozen